Settling in at University
Your course has got started, the novelty of a new start has worn off, now what? Read on to find helpful links to help you settle in at University and feel in control of things.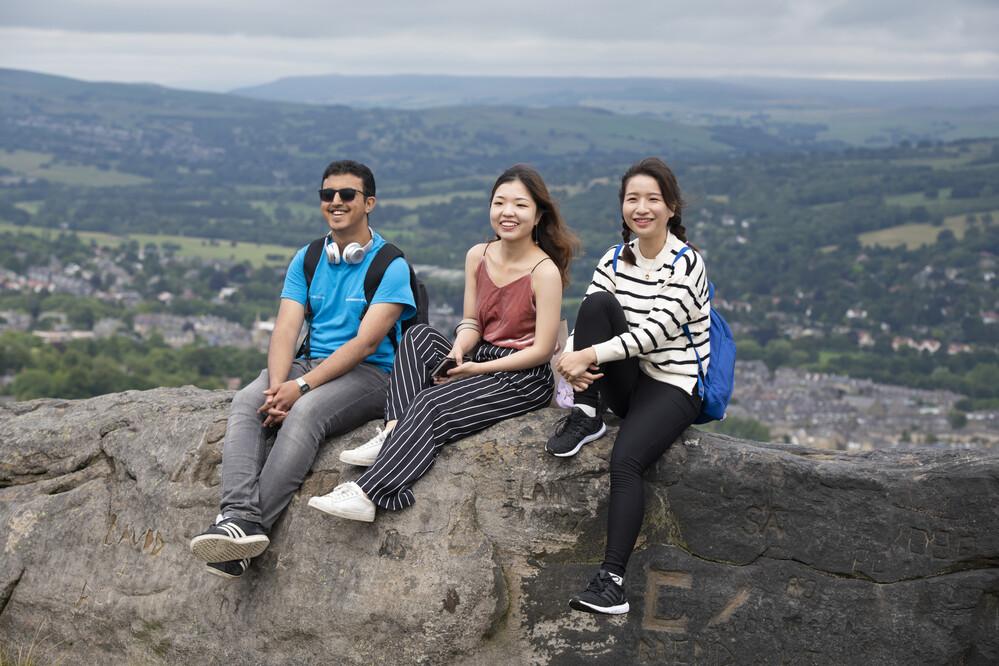 I want to speak to someone as I'm settling in at University
If you have a question or need information you can contact our friendly colleagues in the Student Information Service. They can help you navigate your studies, find out what you need to know, and put you in touch with the right people if you need more specialist support or advice.
Call us
Our Helpline Team are on hand Monday to Friday 9-5 pm.
Call +44 (0)113 343 7000 (from outside of the UK)
Call 0800 915 0402 (from inside the UK. This is a free phone number, and you won't be charged for calling this from your mobile or landline).
Email us
You can email us at studentinfo@leeds.ac.uk
Speak to us, face to face
Our Information Points are open from 9 am to 5 pm Monday to Friday.
If you've got a question that you need answering before you arrive (and once you're here!) then here's a list of where to go for help.
Enriching your life at Leeds
With some planning and research, you'll find a whole wealth of opportunities to get involved in.
Volunteering
Here's four reasons why volunteering is a great thing to do.
It's a highly rewarding and enjoyable experience which gives back to the local community
It offers you a chance to help support a cause you feel passionate about
It can enrich your time here in Leeds and connect you to projects, places and people in the Leeds area which you'd not otherwise come into contact with
It offers you a chance to find out what you'd like to do as a career, or if you already know you're career path, help to give you the skills and experience to give you a head start
Planning for your future
Sport and Exercise
Whether you're an elite sportsperson, a keen team player, or just someone who likes keeping fit or having fun with your mates, there's something for everyone at University.
Clubs and societies
With over 300 clubs & societies at Leeds University Union, you won't be short of ways to have fun and discover your friends for life.
University opportunities
From learning a language, getting involved with raising money or working in schools, there's opportunities for everyone.
Leading a more independent life
Whether you're living away from home for the first time, or leading a more independent life, then getting organised, learning new skills and developing your independence can help you feel more settled.
Shopping
Managing your money
Understanding your money, how to budget, how to make more of your money and knowing what to do if things are going wrong are essential skills for life. Our cost of living hub has links and guides to help keep your finances on track.
Part-time work alongside your studies
Safety
Sustainability
Settling in to your course
Studying at University is different to anything you'll have done before. Even if you're coming back to study after a long tme away, have been to another University or are returning after a placement, you might be looking for some help and support.
The library
Bookmark the library website for opening hours, booking study spaces, searching online resources, managing your library record and much more.
Helpful websites and blogs to help with your studies
Your academic personal tutor
You've got an academic personal tutor. Have you met them yet? They are someone who is there to work in partnership with you and help you maximise your success. Find out more about your academic personal tutor.
Imposter syndrome?
You're not alone. Am I good enough? Dealing with imposter syndrome at University
Making changes
Sometimes you realise that you're going to need to make changes to things, perhaps your module, course or other arrangements. We've got processes in place to help you along the way.
When things don't go well
There will be times when things don't go according to plan. Knowing there is support and resources available if you need it can be reassuring, even if you don't need them now.
Feeling homesick
Everyone will miss home, even if they don't talk about it. It's not something that affects people in their first year either – it's normal to feel homesick in all years of Uni.
There are some practical things you can do to help you during this time of transition. We've put them all together for you to explore in your own time.
If you're living in University accommodation, why not speak to your Residence Life Assistant? They're experienced students living in your halls who've been there and done it when it comes to moving away to University, so they can offer you help and advice.
Global Café is a great event to come and speak to other students who might be feeling just like you.
How I learnt to feel less homesick at University – a blog by second year student Katie.
If you're ill
We strongly reccomend you register with a doctor as soon as you arrive at University.
Find University arrangements if you're ill
Find specific support
Togetherall and self help resources
Togetherall is a safe, online community where people support each other anonymously to improve mental health and wellbeing.. As a student at Leeds, you'll have free access.
Mental health and wellbeing blogs
I want to speak to someone
If you've got a question that you need answering then here's a list of where to go for help.
International Welcome
As well as the above list, there's a few extra things that you might want to find out about as you begin settling in to a new life in the UK.
Settling in at Leeds as an international student
Our settling in to life at Leeds section has everything you'll need to know for the first few weeks and months.
Check our 'A week in my student life' blog post series to hear more about settling in Leeds from our Link to Leeds Ambassadors.
Moving to Leeds is a blog written by students from all over the world talking about their experiences of moving to Leeds.
Five ways to improve your English – Wing Yan Lui (Cheryl), Fashion Marketing (Industry) shares her tips for improving your English during your time at Leeds.