Leadership Programmes
The Global Leadership Forum 2021
Registrations for the Global Leadership Forum are now open. If you would like to sign up to get involved in this opportunity, please register for the programme with Common Purpose using this sign-up link
To hear more information about the Global Leadership Forum, please come along to our information drop-in session on Wednesday 3rd November 3:30-4:30pm, Chemistry West Block LT F (G.74). Alternatively, you can join this session online.
Disruptor or innovator, entrepreneur or analyst, revolution or evolution.
How will you create the world of tomorrow?
Thanks to the generosity of our alumni and supporters, we are preparing to run a leadership programme for 1,000 Leeds students in the autumn of 2021.
The GLF is a fully funded online programme delivered by ​Common Purpose.​ An international leadership development opportunity ​with no financial or academic barriers, you will work towards​ the United Nations Sustainable Development Goals (SDGs).
This will take place online on Wednesday 24th November 2021, 4-8pm, with optional networking 4-5pm. Places on this programme are open to students of all levels and disciplines: UG students and PG students, Foundation Year students and students currently on Work Placement Years.​
The world is becoming ever more complex and fast-paced, and the issues we face ever more pressing. The skills and insights you develop now will enable you to thrive in your careers and help shape a world of work fit for the future ahead of us. The commitments you make to address the climate emergency and advance the United Nations Sustainable Development Goals will help create a sustainable and equitable future for us all.
Engage with visionary leaders representing massive international brands, as well as unsung heroes who make change happen in their communities. Get to grips with the real issues faced by the Leeds City Region and the global challenges faced by leaders around the world. Delve deep into the United Nations Sustainable Development Goals and see how they provide a framework for us to create the economies and societies we need to thrive long into the future. Reflect on what's next for you in work and life.
Speakers at the GLF include experts and thought leaders in responsible consumption, ethical fashion, climate policy, human rights, social justice, impact investment and tech innovation. You will have the opportunity to hear from the youngest ever Nobel Peace Laureate, one of the world's top 20 most influential people in climate policy, an Empower Top 100 Ethnic Minority Future Leader, a sustainability expert from Seaspiracy, and an NFL star. You will also get to work with leaders from around the world in a number of Leadership Masterclasses and Leadership Insight Sessions to discuss the challenges of our time and discover the leader in you.
Confirmed speakers include:
Tawakkol Karman, Nobel Peace Prize Laureate, Activist and Journalist
Rosemary Oliver, Fundraising Director, Amnesty International
Jai Warrier, Co-Founder, Initiative for Climate Action
Jennifer Morgan, Executive Director, Greenpeace International
JJ Birden, Former NFL Athlete and Motivational Speaker
Cyrill Gutsch, CEO and Founder, Parley for the Oceans
This is your chance to stand up and take ownership of your future – in your career and as a global citizen.
Join hundreds of your peers across the University and curate your own individual learning journey, choosing the speakers, brands and issues that matter most to you.
If you would like to sign up to get involved in this opportunity, please register for the programme with Common Purpose using this sign-up link
Leeds to South Korea
The Leeds to South Korea Leadership Programme is your chance to develop your leadership and communication skills as you work with students from KAIST University to create solutions to some of the world's greatest challenges.
The Leeds to South Korea Leadership Programme gives you the opportunity to develop your ability to lead from a truly global perspective. Along with students from KAIST University, you will play a part in tackling the biggest issues facing businesses, governments and societies worldwide.
This programme has been developed in partnership with Common Purpose, a leadership development organisation that specialises in cross-boundary leadership. Common Purpose is a not-for-profit organisation running programmes in more than 70 cities worldwide. The Leeds to South Korea programme delivered online in 2021 was the fourth leadership programme run in partnership with the University of Leeds, following the Leeds to New York programmes in 2016 and 2017, and the Leeds to South Korea programme in 2019.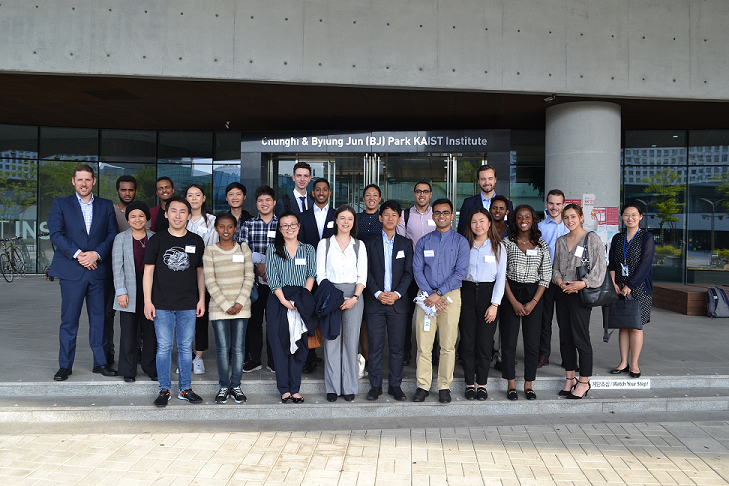 BENEFITS
The programme provides you with an international experience, challenging you to adapt and thrive in a new context while establishing a genuinely global network. It equips you with the tools you need to lead change, now and in the future. During the programme you will work as part of a diverse and multi-cultural team to address challenges, and will develop your cultural intelligence and leadership skills in the process.
Everyone who successfully completes a Common Purpose programme, anywhere in the world, joins the Common Purpose alumni network - a 100,000 strong, growing, global community of alumni with exceptional diversity and a huge range of skills, interests and leadership experiences.
In 2021, participants who successfully completed the programme were awarded a digital Common Purpose Inclusive Leadership micro-credential, which could be displayed on LinkedIn profiles.
PROGRAMME OVERVIEW
The Leeds to South Korea leadership programme combines theory, innovative practice and hands-on experience. You will experience a range of benefits including developing your ability to lead from a global perspective, experiential learning with and from business leaders, world leading academic researchers and fellow students. This international experience provides a real differentiator in the competitive graduate jobs market and far beyond.
Previous programmes focused on addressing the UN Sustainability Goal 11, by answering the question "How can we ensure our cities are resilient and inclusive?"
COSTS
A Leeds Alumni has generously funded this programme. Your registration and programme fees will be covered by this donation.
PROGRAMME SCHEDULE
The programme schedule for the Leeds to South Korea leadership programme 2022 will be confirmed in due course.
HOW TO APPLY
We are looking for students who want to gain an understanding of how to lead in multi-disciplinary and cross-cultural environments. We are not looking to recruit particpants with proven leadership or international experience. The programme is open to all taught Leeds students.
Application criteria and process
The application criteria and process for the 2022 programme is due to be confirmed in late 2021.
Applications open: date to be announced
Applications deadline: date to be announced
Further details will be posted on the Study Abroad Minerva Organisation. In order to access the relevant page on Minerva, please ensure that you are enrolled onto the Study Abroad Minerva Organisation using this link.
INTERESTED IN SIMILAR LEADERSHIP OPPORTUNITIES?
Thanks to the generosity of our alumni and supporters, we are preparing to run a similar programme for 1,000 Leeds students in the autumn of 2021. Details of how to get involved will be released soon. If you would like to sign up to be the first to receive further details of this opportunity, please complete our Expression of Interest Form.