Leeds to South Korea
The Leeds to South Korea Leadership Programme is your chance to develop your leadership and communication skills as you travel to South Korea to work with students from KAIST University to create solutions to some of the world's greatest challenges.
The Leeds to South Korea Leadership Programme is your opportunity to develop your ability to lead from a truly global perspective. Along with students from KAIST University, you will play a part in tackling the biggest issues facing businesses, governments and societies worldwide.
This 10-day programme, developed in partnership with Common Purpose, a leadership development organisation that specialises in cross-boundary leadership. A not-for-profit, they run programmes in over 70 cities worldwide. This is the fourth leadership programme run in partnership with the University of Leeds following the Leeds to New York programmes in 2016 and 2017, and the Leeds to South Korea programme in 2019.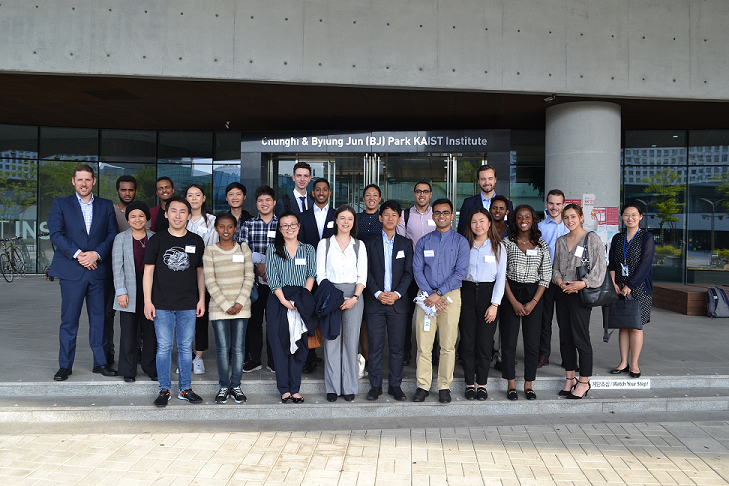 BENEFITS
The programme provides you with an immersive international experience, challenging you to adapt and thrive in a new context while establishing a genuinely global network. It equips you with the tools you need to lead change, now and in the future. During the programme you will work as part of a diverse and multi-cultural team to address challenges, and will develop your Cultural Intelligence and leadership skills in the process.
PROGRAMME OVERVIEW
The Leeds to South Korea leadership programme combines theory, innovative practice and hands-on experience. Participants will experience a range of benefits including travelling to a new country and city, experiential learning with and from business leaders, academics and fellow students. This international experience provides a real differentiator in the competitive graduate jobs market and far beyond.
The programme will take place for 5 days at the Korea Advanced Institute of Science and Technology (KAIST), and for 5 days at the University of Leeds. Selected participants will work with students from KAIST throughout this two-week period.
COSTS
A Leeds Alumni has generously funded this programme ensuring that your entry on the programme, accommodation at KAIST, some meals and travel to and from South Korea will be covered. Participants will be required to cover any additional costs such as recreational activities, refreshments and some meals.
PROGRAMME SCHEDULE
Please note that this schedule is subject to change.
Wednesday 29 April 2020 – Briefing Session
6 - 10 July 2020 - Week 1 in Leeds
Saturday 11 July 2020 – Travel to South Korea (TBC)
13 - 17 July 2020 - Week 1 in South Korea
Sunday 19 July 2020 – Return from South Korea (TBC)
N.B. Participants are required to commit to attending all of the days above.
HOW TO APPLY
We are not looking for students to demonstrate their proven leadership or international experience – we are looking for students who want to gain an understanding of how to lead in multi-disciplinary and cross-cultural environments.
Application criteria and process
You will need to create a concise 2-minute video to apply for this programme. This is a very competitive process and the video is your pitch to the shortlisting panel to demonstrate why you think you should be selected. You can be as innovative as you like – it's your video, but remember, you need to ensure that you:
demonstrate that you understand the programme objectives;
can explain how it will benefit you personally, and;
explain how what you learn could be applied in your future studies or career.
Shortlisted candidates will be invited to an assessment centre on Monday 30th March 2020.
The applications process opens on 4th February 2020. Videos must be uploaded to MediaSite, and the direct link submitted to MyCareer by 4pm on 3rd March 2020. Guidance documents for this can be found on MyCareer. Any applications submitted after this time will not be accepted.
Successful applicants will be notified by email on 2nd April 2020.
Due to the high volume of applications we are unable to provide individual feedback to unsuccessful applicants.
Information Sessions and Drop-in Sessions - Ask any questions and get more information:
Drop-in 1 - Thursday 20th February - 2pm - 3pm - Careers Centre Room LG.02, 5-7 Cromer Terrace
Drop-in 2 - Wednesday 26th February - 11am - 12pm - Careers Centre Room LG.02, 5-7 Cromer Terrace
Drop-in 3 - Thursday 27th February - 3pm - 4pm - Careers Centre Room LG.03, 5-7 Cromer Terrace
Download the Leeds to South Korea Application FAQs
Download the MediaSite Instructions
For more information please contact the Study Abroad Office.