Leadership Programmes
Learn more about the fully-funded international leadership programmes available, enabling you to develop your leadership skills by tackling issues facing governments and societies worldwide in collaboration with students from around the world
Leeds to South Korea
The Leeds to South Korea Leadership Programme gives you the opportunity to develop your ability to lead from a truly global perspective. Along with students from KAIST University, you will play a part in tackling the biggest issues facing businesses, governments and societies worldwide.
This programme has been developed in partnership with Common Purpose, a leadership development organisation that specialises in cross-boundary leadership. Common Purpose is a not-for-profit organisation running programmes in more than 70 cities worldwide. The Leeds to South Korea programme delivered online in 2021 was the fourth leadership programme run in partnership with the University of Leeds, following the Leeds to New York programmes in 2016 and 2017, and the Leeds to South Korea programme in 2019.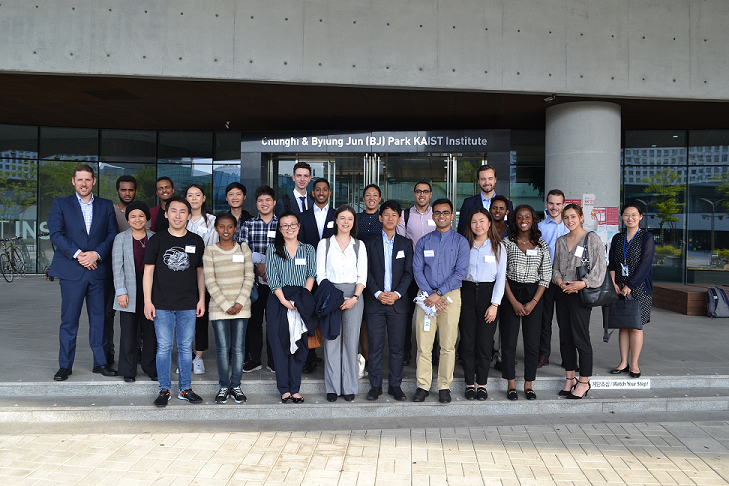 BENEFITS
The programme provides you with an international experience, challenging you to adapt and thrive in a new context while establishing a genuinely global network. It equips you with the tools you need to lead change, now and in the future. During the programme you will work as part of a diverse and multi-cultural team to address challenges, and will develop your cultural intelligence and leadership skills in the process.
Everyone who successfully completes a Common Purpose programme, anywhere in the world, joins the Common Purpose alumni network - a 100,000 strong, growing, global community of alumni with exceptional diversity and a huge range of skills, interests and leadership experiences.
In 2021, participants who successfully completed the programme were awarded a digital Common Purpose Inclusive Leadership micro-credential, which could be displayed on LinkedIn profiles.
PROGRAMME OVERVIEW
The Leeds to South Korea leadership programme combines theory, innovative practice and hands-on experience. You will experience a range of benefits including developing your ability to lead from a global perspective, experiential learning with and from business leaders, world leading academic researchers and fellow students. This international experience provides a real differentiator in the competitive graduate jobs market and far beyond.
Previous programmes focused on addressing the UN Sustainability Goal 11, by answering the question "How can we ensure our cities are resilient and inclusive?"
COSTS
A Leeds Alumni has generously funded this programme. Your registration and programme fees will be covered by this donation.
PROGRAMME SCHEDULE
The programme schedule for the Leeds to South Korea leadership programme 2022 will be confirmed in due course.
HOW TO APPLY
We are looking for students who want to gain an understanding of how to lead in multi-disciplinary and cross-cultural environments. We are not looking to recruit particpants with proven leadership or international experience. The programme is open to all taught Leeds students.
Application criteria and process
The application criteria and process for the 2022 programme is due to be confirmed in late 2021.
Applications open: date to be announced
Applications deadline: date to be announced
Further details will be posted on the Study Abroad Minerva Organisation. In order to access the relevant page on Minerva, please ensure that you are enrolled onto the Study Abroad Minerva Organisation using this link.