Results
Find out when your provisional and final results will be available and how to view them online.
You can use Minerva to access your provisional marks and final results. If you need to resit any modules, you'll need to submit an online application before the relevant deadline.
NOTE: Following the completion of the Semester Two examination period, the August Re-Assessment period and for the first three weeks of November, the Results and Resit Application pages are required to be turned off to enable the marks and awards to be processed. On each of the Official Results days, these pages are switched back on.
The Results and Resit Application pages are available to view for the remainder of the academic session.
Accessing results and resit application pages
All results and resits application pages are available via Minerva. To access these pages:
Log into Minerva
Click "Access Student Services icon" in the toolbar at the top right.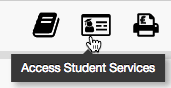 Click the Examinations tab.
Provisional marks
You will be informed by your teaching school(s) when your provisional marks have been made available online.
Choose "Provisional Marks" from the menu on the Examinations tab in Student Services.
Some marks for postgraduate students are confirmed during June at the same time as undergraduate results, and may not be released as provisional. These marks will be available as final marks on the Official Results Day.
You can find more details on dates for results and resits in the timeline of events.
Final results
Your final results will be released on the following dates:
Undergraduate end-of-session results for 2019/20 (Official Results Day): Monday 6 July 2020
Undergraduate August resit results for 2019/20: Wednesday 16 September 2020
Postgraduate results for 2019/20 (including resits): Thursday 19 November 2020
Applying to Resit
If you are eligible to resit any modules, you will be able to apply to resit them on the Results and Resit Application page.
Postgraduate students whose marks are still provisional in July can download an August resit application form on the Provisional Marks page.
See Marking, Results and Resits for more information.
Further help
If you're having any problems logging into Student Services, contact the IT Service Desk
If you can't register for your resit on the online application page, contact the Exams Team.
For any other issues, such as advice on module choice or changing degree programme, contact your parent school or the relevant teaching school.