How to enrol on your modules
If you are studying on a programme which requires you to choose optional or discovery modules, you will complete this first-come, first-served process online through Student Services.
How to enrol on your modules
Visit the Enrolment page on Student Services
Log in only once, on one device. A second attempt will log you out of your first session.
Pages may take time to load, do not refresh straightaway as this will make the response time longer.
You can log in advance of module enrolment opening but you will need to refresh the page once it opens.
This video is a step by step on how to successfully enrol on module.

Navigate through each of the five steps of the module enrolment checklist in order to complete the process.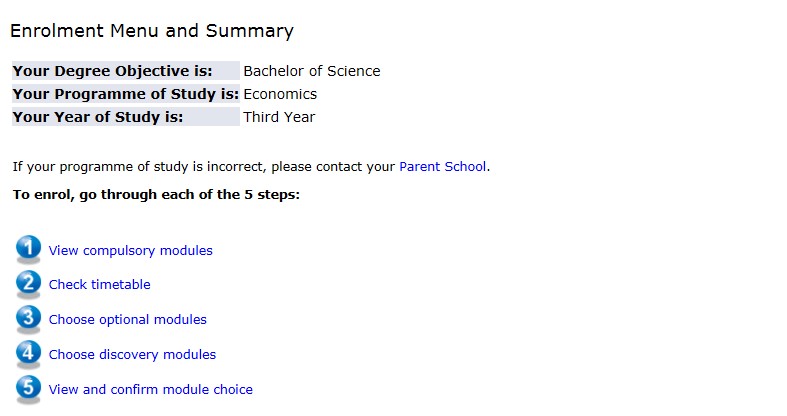 When you've confirmed your module enrolment, a confirmation email will be sent to your University email address. Whilst online enrolment is open you can return to Student Services to amend your module choices, even if you have confirmed your choices during the final step.
Encountering difficulties?
1) Accessing online module enrolment
Please check the When to enrol page for the availability. If you see a message saying you are not a student in this term please contact your Parent School as they need to arrange for your record to be updated.
2) Navigating online module enrolment
For step-by-step guidance with screenshots please visit our module enrolment guide.
You can enrol on just some of your required credits initially but please bear in mind that module enrolment works on a first come first served basis. You should return to fulfil your credit requirements for the year before module enrolment closes.
3) Module Choices/Changes
If the module you wish to enrol on is full or reserved please contact the teaching School of the module to find out what your options are - waiting lists or capacity adjustments are managed by the Schools themselves.
If you wish to discuss a timetable clash contact your School timetabler.
For queries relating to supernumerary/additional modules to your programme requirements please contact your parent School.
4) Technical issues/Error messages
If you have technical issues with the module enrolment system please email us. When emailing us, please:
Use your University email address
Include your student ID
Send screenshots and error messages