Freedom to Speak up Guardians
Do You Want To Speak Up?
If you want to speak up about anything, in relation to the University or your placements, but are not sure who to speak to or what the right option is for you, you can always contact the Freedom to Speak Up Guardians.
SPEAK TO US about any issue that concerns you big or small, including any form of discrimination (such as racism, sexual harassment), bullying or anything that could be improved.
DISCUSS your experiences in a confidential, safe and impartial space.
EXPLORE options, make an informed decision about the next steps.
SHARE your suggestions and influence change for all students.
RECEIVE FEEDBACK from your Guardians who will work to ensure action is taken.
Email: medfsug@leeds.ac.uk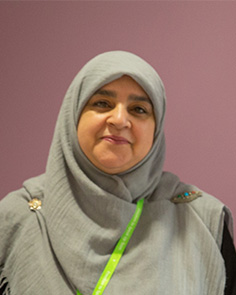 Robina Mir Farhana Mulla
Text: 07541207278 Text: to be confirmed

Please be aware emails sent to medfsug@leeds.ac.uk are viewed by both Guardians, no other staff member has access to emails received. This inbox is not monitored daily, however the Guardians will respond to you as soon as they can.
If you wish to contact either Robina or Farhana individually, please send a text message.
SMS inboxes are not monitored daily, however Robina or Farhana will respond to you as soon as they can.