Study Abroad events
We run a series of events throughout the year to help you prepare to apply and get ready for your study abroad year. Our events are open to students in their first or second year. Follow the Leeds Uni Abroad Facebook page for more information on all of our events!
BEFORE YOU APPLY
Leeds Study Abroad Fair
Come along to the Study Abroad Fair on Wednesday 16th October 2019 from 11am to 4pm in Parkinson Court. This is a great opportunity to speak to students from our partners on exchange at Leeds, Leeds students who have just returned from a year abroad and the Study Abroad team. We will also be running a series of presentations and talks to guide you through the application process for the programme. Take a look at this video to get a feel for our Fair!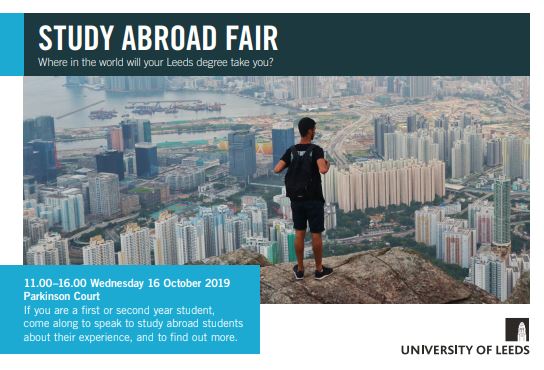 Study Abroad 101
Come to this event to find out more about eligibility requirements, researching destinations, costs and funding, and how to apply for Study Abroad. We will be holding this event throughout the application period so make sure you attend a session before you start applying to study abroad.
Upcoming sessions:
Tuesday 29th October 2-3pm Roger Stevens LT 14 (10M 14)
Monday 4th November 2-3pm Roger Stevens LT 15 (11.15)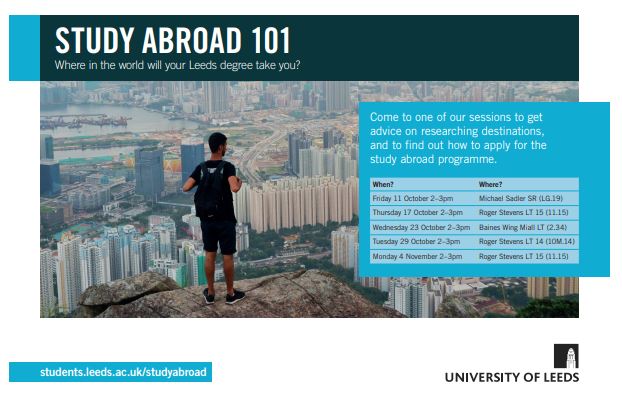 Budgeting for Study Abroad
This session is run by the University of Leeds Funding team and will give you more information on how to manage the financial side of your year abroad including applying for your student finance, Travel Grant eligibility and how to budget for the year. Want to know more about budgeting for the year abroad? Read our student's tips on the LeedsUniAbroad blog and our Calculating the Costs of Study Abroad page!
GET READY TO GO
We will run pre-departure events throughout Semester 2 which will cover several aspects of your year abroad. From formally applying to your host institution, keeping safe abroad, applying for your student loan or getting to know your fellow Leeds students before you go, our sessions have been designed to help you prepare for the year ahead.
Download the interactive 2020/21 Pre-Departure programme to see what sessions will be available in 2020.
Attendance at most events is optional but remember that the Study Abroad Essentials session is compulsory for all students going abroad.
RETURNING TO LEEDS
Adjusting to life back in Leeds after the year abroad can be challenging for some students. This is why we have designed an event that will help you connect with other students who, just like you, have returned from the year abroad.
Study Abroad Unpacked
This event is a collaboration between the Study Abroad office and the Careers Centre and has been designed to enable you to articulate the skills you have gained from your year abroad. Come along to get tips on how to use the experience gained abroad to enhance your employability!