Why study abroad?
Studying abroad allows you to explore your academic degree from a complete different perspective while gaining invaluable skills that will enhance your future employability and personal development.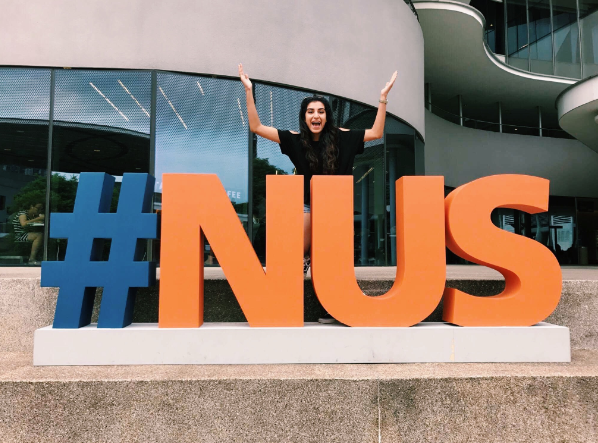 Alisha Mahmood - Leeds Study Abroad student at the National University of Singapore.
"Though I am a Civil Engineering student at Leeds, at the National University of Singapore I was able to pick classes such as public speaking and Arabic. This really helped me meet new people from all walks of life and help me improve my communication skills as I can now speak in front of a group of people without panicking. Singapore is the perfect country if you want to travel far and wide as it's the hub to all of Southeast Asia! It was my dream to see as much of South East Asia as I could and over the year I travelled to 15 countries! I met some amazing people and also travelled alone. I don't think I've felt more alive than I did on my year abroad. Thank you."
Enriched academic experience
The year abroad is designed to give you the opportunity to explore your degree from a completely new perspective and build on your learning experience by taking modules outside of your degree too.
See our How does it fit with my degree? page for more information on our traditional as well as Horizon year abroad and how they are assessed.
Enhance your employability
More and more employers are seeking out 'global graduates', culturally aware and experienced employees who can work effectively in an increasingly global workplace. Studying abroad will equip you with those key skills employers value, such as intercultural awareness, communication skills and knowledge of other countries which will give you the confidence to engage with clients or colleagues across the globe and from different cultures.
By completing the year abroad, your degree will be changed to recognise your international experience which will make you stand out in the job market.
Read more about the benefits of studying abroad and enhancing your employability skills:
Gain invaluable personal experience
Studying abroad allows you to become more self-confident by pushing yourself out of your comfort zone, adapt to a new country and ways of life and find creative solutions to new challenges.
It is a truly wonderful opportunity through which you will gain an understanding of a different culture while discovering more about yourself and develop invaluable life skills, which will make you grow as a person.
Read this article written by QS Top Universities giving you 25 reasons why you should study abroad or find out more about our students' experiences abroad on our LeedsUniAbroad blog.