Benefits of the Laidlaw Scholarship and How to Apply
The Scholarship uniquely funds both a research experience and leadership development for undergraduates. It invests in talented and motivated undergraduate students, giving them the knowledge, skills and experience to become active global citizens and future leaders.
10 Reasons to become a Laidlaw Scholar
Produce important research. The Laidlaw Scholars programme gives you the opportunity to spend 6 weeks over the summer researching a subject about which you are passionate; that you believe pushes the frontiers of knowledge, and will solve one of the world's intractable problems or unanswered questions.
Work with a leading academic. Experience PhD level opportunities as an undergraduate, be supervised by a leading academic and / or work with an experienced research team exploring primary data, developing your investigative skills; honing your critical thinking in any Arts & Humanities, Medicine & Health, Social Sciences or STEM topic area.
Know what makes you succeed. Understand your own strengths and weaknesses, motivators and preferences. The Laidlaw Scholars programme provides assessments, training, coaching and a retreat to help you know what brings you joy and success.
Develop your leadership skills. In bespoke training days, workshops and social gatherings, explore leadership values, understand and develop core leadership attributes; discover the latest leadership thinking and meet leadership experts. Join in group work, cultural capital experiences and paying it forward activities to make you a better #NextGen Leader.
Put your leadership knowledge into practise. Spend 6 weeks in your second Scholarship summer, putting into practise what you have learnt in theory about purpose, strategy, planning, execution, communication and influencing skills, team work, resilience and being a global citizen.
Be the change you want to see in the world. Whether it is implementing the findings of your research, joining a leadership expedition with the likes of Raleigh International or Think Pacific (leading a community project in one of the world's poorest communities) or joining a social enterprise or NGO programme, this is your opportunity to challenge yourself, appreciate what you have and support those less fortunate.
Live and work overseas. Immerse yourself in a completely new and challenging environment, living and / or working with local communities who have experienced hardship and deprivation. Build your resilience and experience life outside of your comfort zone.
Create memories to last a lifetime. When you join a Laidlaw volunteering expedition, you will meet Scholars from other universities and countries, work on projects that test your ingenuity and strength; in doing so, you will build memories, develop cultural awareness, acquire leadership skills and forge friendships that will last a lifetime.
Join a network of Global Scholars. All Laidlaw Scholars become part of an expert community of ambitious, brave, curious, determined and extraordinary peers; contributing and collaborating to the Laidlaw Scholars Network. This on-line community platform enables you to publish your research, connect, collaborate and flourish.
Be paid. You could spend your summers working in a bar, fast food chain or faceless corporation; or you could spend it researching something that will make a difference, becoming a better leader and an active global citizen. Come on, you have made a lot harder decisions than this in your life.
Want to know about the types of projects you can undertake as a Laidlaw Scholar?
Download our 2019 Scholar profiles,
which give overviews of the research projects which were available in that year.
Applications for the 2022 Cohort will open in early 2022. Apply thorugh MyCareer
How to apply
If you are interested in applying for the Laidlaw Scholarship 2022 please ensure that:
You will be based at the University of Leeds during 2022-23

You are a first year undergraduate student
As the Laidlaw Scholarship is merit-based, you are eligible to apply for it even if you are already in receipt of a scholarship from the University of Leeds.
If you have any questions regarding your eligibility for the programme, please email the Laidlaw Scholarship Administrator (laidlawscholarship@leeds.ac.uk) in the first instance.
Please note: students studying the following programmes are not eligible to apply for the Laidlaw Scholarship:
Application Process
Support is available to help you with your application during the application period. Please come along to one of the drop in sessions. Dates are on the key dates page.
Step One: Think about and decide what you would prefer your Leadership in Action period to be (this will help with identifying a research project)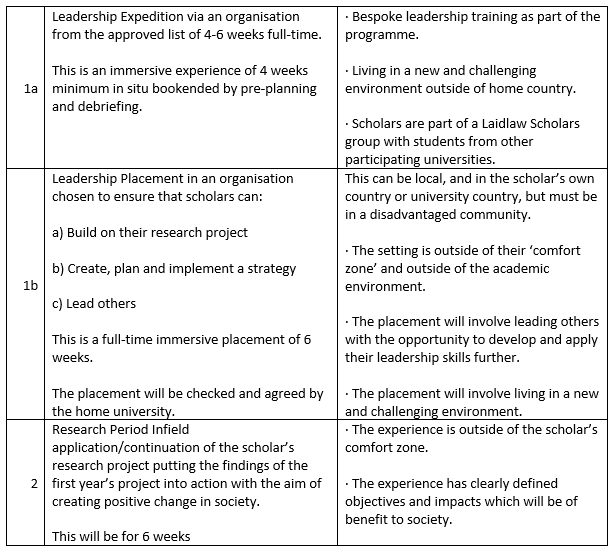 Step Two: Identify a research project you would like to participate in. There are two options available:
Option 1
Review the list of predefined research projects and decide which one you would like to participate in (you can only apply for the ones based in your faculty) and then discuss your potential application with the project supervisor.
There are options for applicants to apply to pre-defined projects in collaboration with the Laidlaw Foundation. These projects will be open to applications from all universities in the Laidlaw network and each offer distinct opportunities to engage with Laidlaw Foundation partner organisations in the UK. Some of these projects will also incorporate a built-in leadership in action option for Summer 2. Applicants will be competing with students from across the Laidlaw Network for these opportunities. If you are interested in one of these projects please contact Rebecca Shaw r.l.shaw@adm.leeds.ac.uk prior to your application.
If applying for a predefined project you will need to explain why the project interests you, why you are interested in the leadership programme, and what qualities and experience you have which will make you successful in completing both. You will also need a statement from your personal tutor or academic representative on your suitability for the scholarship.
All pre-defined projects can be seen on MyCareer
Option 2
If you are not suited to any of the predefined projects and have an original research project proposal you need to discuss it with a potential academic supervisor who can support you through the project. You will need to design the project with consideration to your Leadership in Action Period. All projects should be designed to produce real world impact, beyond research outcomes; or begin a process of so-doing.
If you have defined a project yourself, you will need to write a short research project proposal explaining why the project interests you, why you are interested in the leadership programme, and what qualities and experience you have which will make you successful in completing both. You will also need to agree and confirm the support of your academic research project supervisor, who will need to complete a statement of support for the research project and your suitability for the scholarship.
Step three: Complete the online application form
Applications for 2022 will open in early 2022. Applications are available on MyCareer
Step Four: Submit the application
Shortlisted candidates will be asked to attend a short assessment centre and an interview.
Assessment centre dates and interview dates are to be confirmed.
Scholars will be selected based the strength of evidence/potential provided for the following:
The student's potential and ambition for leadership roles in the future
The viability of the research project within given timescales
The extent to which the student can envisage how their research could be applied or what impact it can have
The Research Supervisor's supporting statement