Programme Supervisor Information
We are now accepting project proposals from University of Leeds academics for The Laidlaw Leadership and Research Programme 2024 Cohort of scholars. Please action by 12th November 2023 as detailed below.
What is the Laidlaw Leadership and Research Programme?
The Laidlaw Leadership and Research Programme aims to develop a new generation of leaders who are skilled researchers, embrace data-based decision making, and believe it is a moral imperative to lead with integrity.
It invests in talented and motivated undergraduate students, giving them the knowledge, skills and experience to become active global citizens and future leaders.
We aim to create an international network of diverse, passionate and ethical leaders who will reinvest their skills, knowledge and experience to help others succeed.
To date, more than one thousand passionate change makers have completed the programme all over the world.
The scheme is now offered by 17 leading universities around the world who are known for their research excellence and who are committed to supporting and developing the leaders of tomorrow.
Further information about the Laidlaw Programme and becoming a Laidlaw Supervisor can be found Laidlaw Guidance Document for Academics
What is the programme?
Students apply to become a Laidlaw Scholar in year one of a three year degree programme, or year one or two of a four year degree programme
There are five core components to the programme, the research project, the leadership development programme, the leadership in action experience, Networking and Ethical Leadership.
The full leadership developmental programme is to provide students with the knowledge and skills vital for becoming future leaders in their chosen fields. Laidlaw Scholars will attend a number of leadership development activities during their time as a scholar.
What is the benefit of being a Laidlaw scholar research project supervisor?
An opportunity to support and mentor ambitious and proactive students.
An opportunity to select the very best undergraduate students who can make a genuine contribution to your research.
The chance to accompany your students to a celebration event which will be organised for all Leeds Laidlaw Scholars.
The chance for you, your students and the department to be featured in profile-raising opportunities during the programme.
Development of students, including the development of potential Masters and PhD candidates who can make a lasting contribution to your School's research output, recruitment and reputation.
How to submit an academic research project proposal
Complete the online academic project proposal form no later than 12th November 2023. Please refer to the guidance notes for completing the project proposal form.
Projects are encouraged to have an international dimension e.g. a focus on another country or contain a global element. This may include an opportunity to spend all or part of the research period in an overseas university or placement.
Further information
Information drop-in sessions are being held in October.
Information Session One│ Tuesday 10th October│12pm - 1pm
Click here to join the meeting
Information Session Two│ Wednesday 18th October│1pm-2pm
Click here to join the meeting
If you would like further information about the Laidlaw Programme or help completing the project proposal form, please contact Rebecca Shaw, Matt Penhaligon
Laildaw Supervisor Testimonials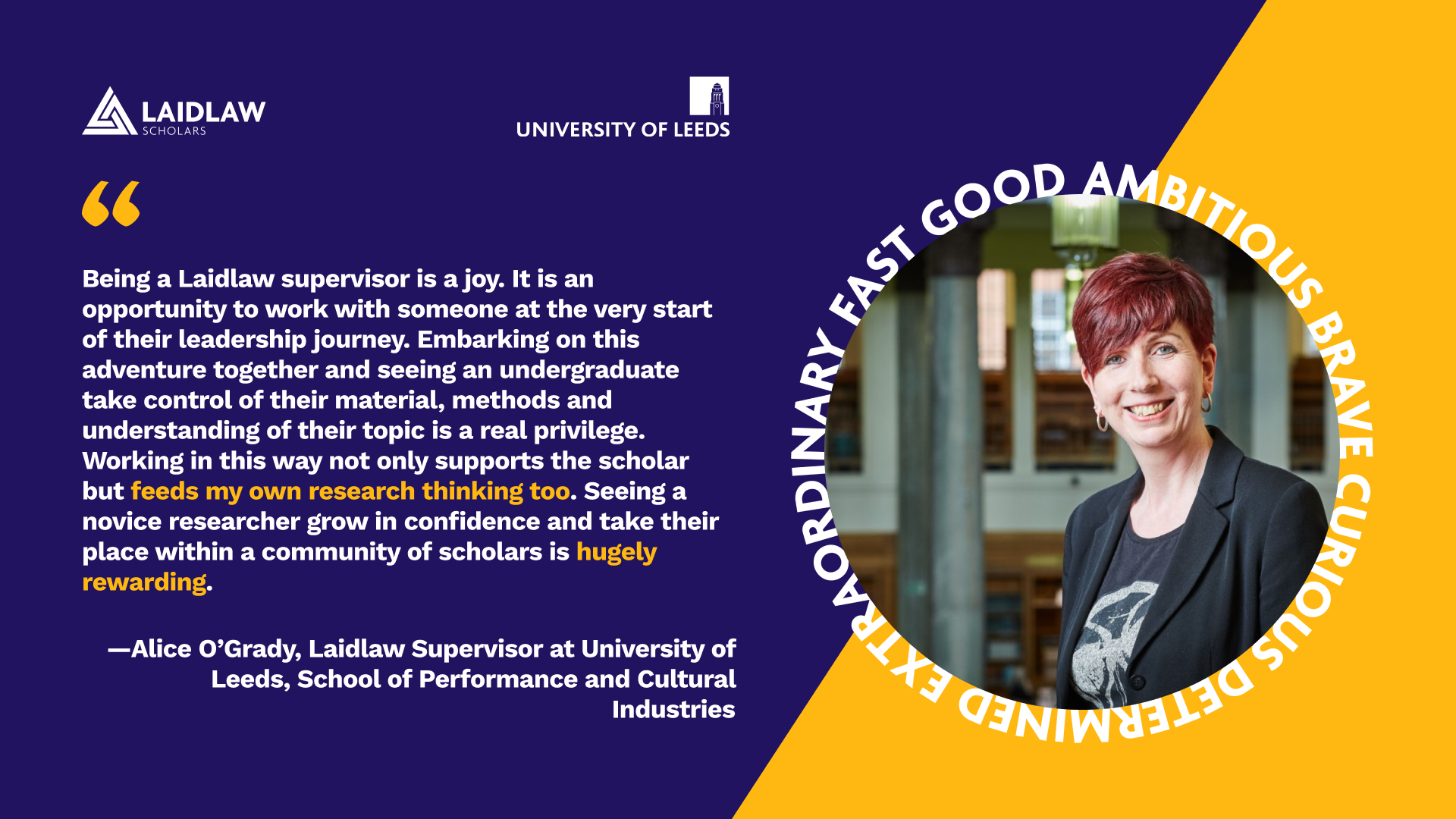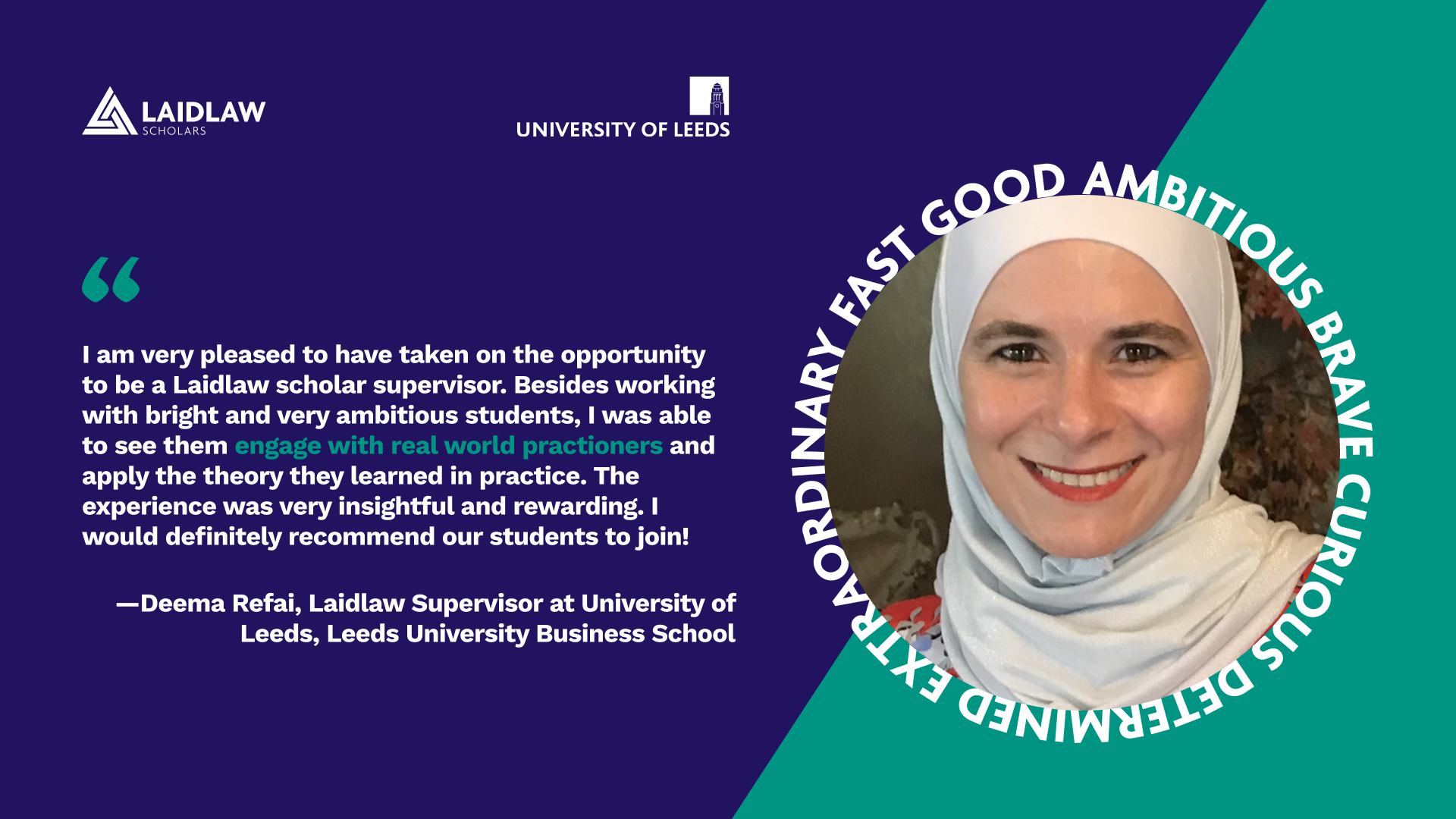 https://laidlawscholars.network