Why choose the Laidlaw Leadership and Research Programme?
The Laidlaw Leadership and Research Programme aims to develop a new generation of leaders who are skilled researchers, embrace data-based decision making, and believe it is a moral imperative to lead with integrity. It invests in talented and motivated undergraduate students, giving them the knowledge, skills and experience to become active global citizens and future leaders.
Applications for the 2023 programme are now open, closing on 27 Feburary 2023. Apply on MyCareer.
There are four core components to the programme:
1. A research project
This takes place over approximately six weeks during a summer vacation. Working with an academic supervisor and/or an experienced research team, scholars develop their abilities in investigative study, analysis, problem solving and data management. The research topic can be selected from a list provided by the university, or be self-proposed if the student has confirmation that an academic will supervise the research.
2. Leadership training
Scholars begin their Laidlaw experience with a leadership training retreat. In a group,immersive environment, they discover their own innate leadership preferences, learn core leadership attributes, explore leadership values and develop their leadership skills through exercises and applied learning. Their leadership development continues through the academic year, after their research summer, with guest speakers, coaching and more.
3. Leadership in-action experience
In their second summer, Scholars put their newly developed leadership knowledge into practise in challenging environments.Over approximately six weeks, Scholars choose from a variety of testing options including joining a charity expedition in a developing country with peers from each of the partner universities, and putting their research into action by planning and leading a change project based on their research findings.
Scholars join a global network of fellow Laidlaw Scholars. This online community provides a dedicated space for scholars to contribute and collaborate. Undergraduate scholars publish their research here, can test their thinking, partner on projects and continue their leadership development. MBA scholars and alumni share career questions, advice and opportunities. Leading academics post their latest papers and thought leadership.
Students applying for the 2023 programme cohort must be in the first year of their undergraduate programme in the academic year 2022/23.
If you are interested in developing your research and leadership skills, gaining leadership qualities, joining a global-wide network of peers, and becoming one of the next generation of leaders this funded programme may be the perfect opportunity for you.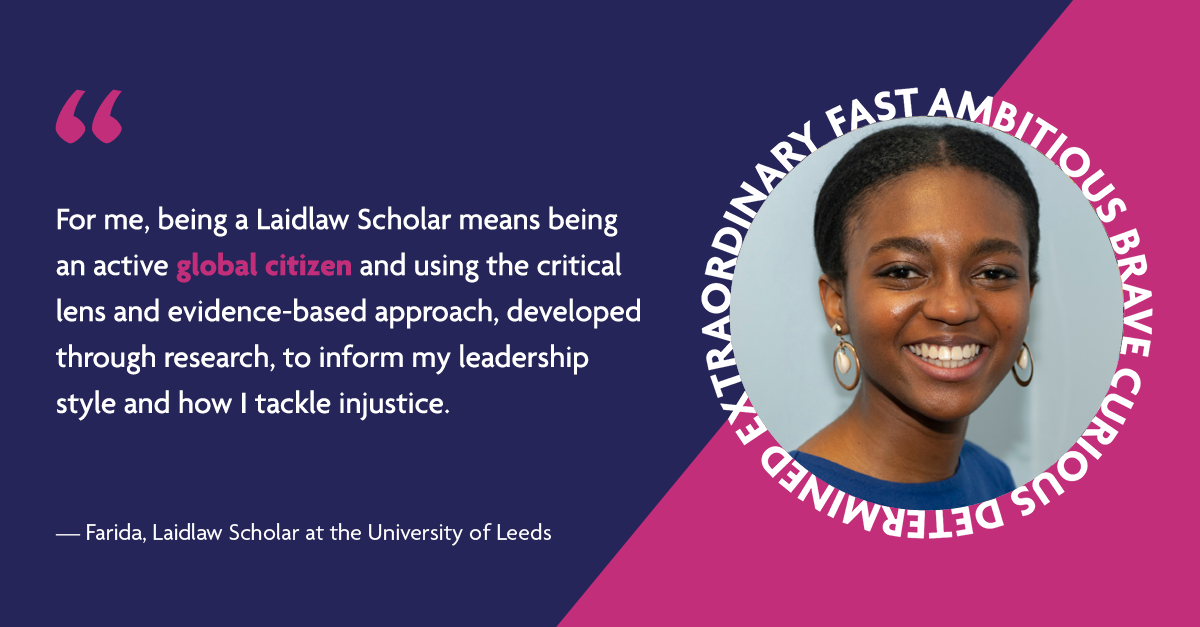 https://laidlawscholars.network