The F&C Investment Trust Prize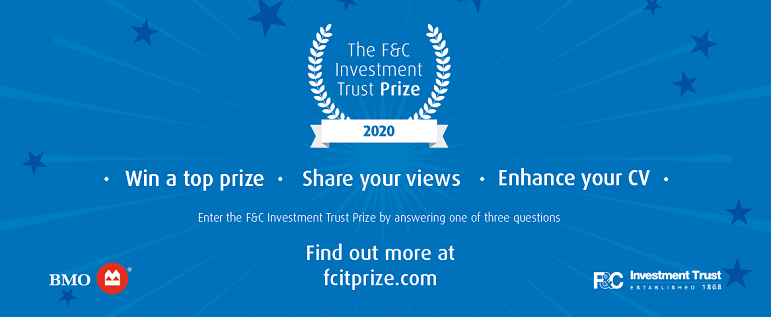 The F&C Investment Trust Prize is back for the second year in a row and the competition is even bigger. This year, we're partnering with several universities around the UK to give more students the chance to take part.
It's brought to students by the world's first collective investment fund, the F&C Investment Trust, which was established over 150 years ago, in 1868. A lot has happened in the past 150 years and the world is constantly evolving, which means we have to adapt and innovate to stay on top and move with the times. To win, we're challenging students to tackle one of three questions on themes and issues that impact our society today and influence our future.
What's the challenge?
We're challenging students to think about what the future holds by answering one of the three following questions. Enter individually or in a team of up to five people. Your entry should:
Be creative – Submit it in any digital form – for example, video, essay, podcast, vlog or infographic.
Showcase your innovation – You don't have to be a finance expert to enter, it's all about innovative thinking and how well you explain your idea.
Take three minutes max to watch/listen/read.
Question 1. Investing for the future
How do young people today provide for their future?
Having grown up against a backdrop of financial crisis and austerity, the members of Generation Z – born between the mid-1990s and the early noughties – tend to be hardworking, debt-averse and frugal. What are the key financial challenges faced by 'Gen Zs', and how do you think they can achieve financial security?
Question 2. Making a difference
How does sustainability and ethical principles affect your choices?
We think that good corporate governance and sustainable practices are essential. Because we believe in getting involved, we engage directly with companies on issues from climate change to labour standards. How do ethical issues influence your life and your choices as a consumer … and how do you think this might affect the world of investing in the future?
Question 3. Diversity & Inclusion
How will diversity and inclusion continue to impact society?
Studies have shown that companies with a positive proactive approach to diversity and inclusion tend to perform better than their less progressive peers. Do you believe this development is significant for business and society, and how do you think it will continue to evolve?
How do I enter?
All students enrolled at the University of Leeds in 2019/20 are eligible to participate. This includes undergraduates, postgraduates, and part time students. Applications will be open from 28th October 2019.
1. Sign up now on the F&C Investment Trust Prize website to register your interest
2. Log in anytime to edit your entry.
3. Complete and submit your entry before the 20th December 2019.
The Prizes
One winner from each University will win a new laptop worth £1,000 (individual entry) or the equivalent in Amazon vouchers for a group entry (up to five people).
From the winners of each University, an overall winner will be selected and win
The F&C Investment Prize
£5,000 cash for their university faculty
A day at the BMO office in London or Edinburgh