Leeds to New York Student Leadership programme 2017
15 undergraduate students will work and learn alongside our alumni, academics and leadership development organisation, Common Purpose in our exciting and innovative Leeds to New York Leadership programme in June 2017.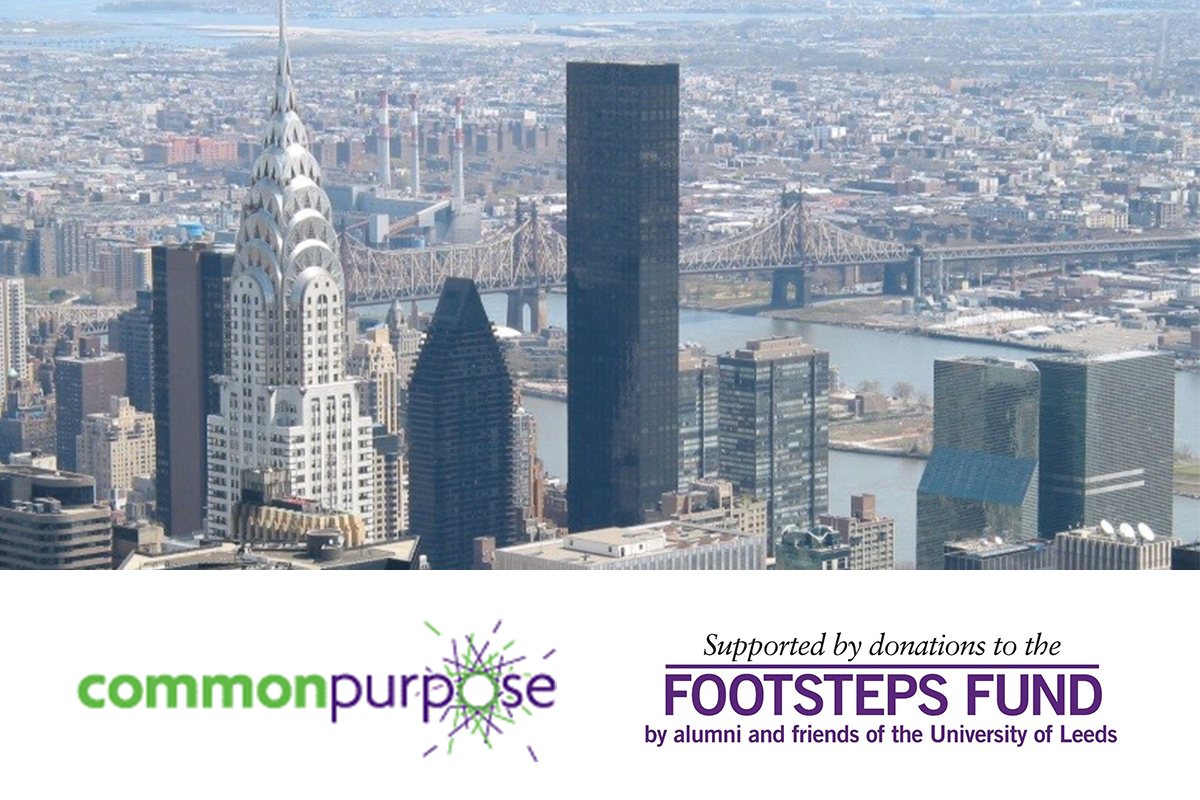 In June 2017 15 students will explore some of the challenges facing leaders in the business, community and cultural sectors in both Leeds and New York. In partnership with Common Purpose, we have developed a 7-day structured programme of intensive workshops and events.
Common Purpose is a leadership development organisation that specialises in cross-boundary leadership. A not-for-profit, they run programmes in over 70 cities worldwide. Founded in 1989, they have over 66,000 alumni globally. Common Purpose Student Experiences delivers student and youth programmes around the world.
The Leeds to New York Leadership programme is designed to be an immersive experience that will take you out of your comfort zone and into a new city to develop your Cultural Intelligence (CQ): the ability to cross divides and thrive in multiple cultures.
To solve the major problems of the world, the next generation of leaders will need to work across boundaries and lead people who are different to them. Global employers are looking for the kind of talent who can do exactly that, working fluidly across different geographies, sectors and generations. Students who can do so are the ones who will find themselves not only employed, but quickly promoted within global organizations.
We are delighted to be working with the University again to support this incredible opportunity for students to develop an arrange of skills through and exciting and interactive learning environment.

Common Purpose
In partnership with our alumni and Common Purpose, we are building on last year's successful student leadership programme. Students will work alongside business and community leaders in Leeds and New York, gaining real-world insight into some of the challenges faced by today's society.

Professor Tom Ward, Deputy Vice-Chancellor: Student Education
Programme overview
The Leeds to New York student leadership programme combines theory, innovative practice and hands-on experience. In Leeds students connect with leading academics and City business leaders, and in America connect with New York based Leeds alumni. They will be introduced to a specific challenge and will be working on this throughout the programme.
Benefits
Through getting out into a new city, learning with and from its leaders, this international experience provides a real differentiator in the competitive graduate jobs market and far beyond. Students will:
work with senior business leaders and Leeds alumni
develop their knowledge and understanding of some of the key issues faced by business leaders in Leeds and New York
be supported by a Leeds Alumni Mentor in New York
engage with Common Purpose Study Abroad Experiences
develop Cultural Intelligence (CQ): the ability to cross divides and thrive in multiple cultures
gain an understanding of how to lead and bring about change
investigate and work on a specific challenge in the context of inclusivity
enhance CVs by adding a valuable and unique international experience
join the Common Purpose online module - the online platform that connects Common Purpose alumni
be financially supported by the Footsteps Fund which will cover the education programme, flights and accommodation. They only need to the cover costs of food and any social activities.
We asked the group that went to New York last year to tell us about their experience -click here to hear what they said.
Programme Schedule
Programme briefing: Introduction to the programme (Leeds)
Students meet the wider group that they will work with in Leeds and New York, along with staff at Leeds who will be supporting them. The briefing will also finalise all documentation (for example, visa and passport information, accommodation and flight details).
Day 1: Understanding the context for Leeds (Leeds)
Introduction to Common Purpose staff who will be delivering the programme in New York. Students will hear from senior leaders from the City of Leeds who will share their experiences; reflect on learning and how it can be applied in a New York perspective.
Day 2: Exploring what we share as a group (New York City)
Students will explore and appreciate the diversity within the larger group collectively and identify the skills individuals bring to the programme and the group. Additionally, they'll explore the concept of Cultural Intelligence and hear from senior leaders from business, government and NGO sectors who will share their experience of how leaders operate in the city.
Day 3: Looking at the world through someone else's eyes (New York City)
Students will gain a broad overview of the challenge that they will be working on from experts, before going on visits to organisations across the public, private and not-for-profit sectors.
Day 4: Going beneath the surface (New York City)
Following the introduction to the challenge, students begin to deepen their understanding through further immersion visits. They will develop further insight about what it is like being a leader in the City and begin to map the challenge.
Day 5: Developing prototypes (New York City)
Begin synthesising and distilling all the knowledge into a project idea. Students will meet and be coached by mentors from the City.
Day 6: Presenting responses to the Challenge (New York City)
Students will test their prototype idea on external experts and develop it further. They will also receive a masterclass on pitching, fine tuning their idea and then pitch to experts and city leaders.
Day 7: Transferring the learning to a Leeds context (Leeds)
For the final day of the programme back in Leeds, students will reflect on what they learnt in New York City and how that relates and differentiates from Leeds. They will be working on developing their responses to a particular challenge from a Leeds perspective, and pitch their ideas to experts and senior leaders from Leeds. Students will also take some time to reflect on the programme and what they have learnt from the experience.
The programme is challenging and intensive, but very interactive. Students will participate in workshops, discussion groups with Common Purpose and Leeds alumni business leaders. There will be lots of time for networking and to work in small groups.
There will be refreshment breaks each morning and afternoon, with a break for lunch.
Dates
The programme is below:
Wednesday 7 June 2017 - Half-day briefing, programme overview and programme documentation at the University of Leeds
Wednesday 14 June - First day of the programme at the University of Leeds
Sunday 18 June - Travel to New York
Monday 19 to Friday 23 June - Days 2–6 in New York
Saturday 24 June - Return to the UK (arrive on 25 June)
Friday 30 June 2017 - Final day of the programme in Leeds.
Click here to hear last years' students share their experience.
Funding for this programme is provided with the generous support of the alumni Footsteps Fund.
If you have any questions about the programme please contact Karen Shaw tel: 0113 343 0548.
This is a fantastic opportunity to work with Leeds academics and alumni, business leaders and experts from Common Purpose.