Out of term time activities
We know that a lot of students are in Leeds over the summer, so there's a wide range of events and activities which you can get involved with to make the most of this time of year.
From social events and trips to volunteering opportunities, there are lots of things happening during the summer months. Whilst you can just turn up to most events, some require booking in advance. Click on the event title to go directly to further information about the event and booking details, please be aware that some times and dates may be subject to change. For further updates and information, follow the Global Community Facebook or Twitter.
Summer 2018
Events on campus
Weekly Events:
Every Monday (except bank holidays)
Global Cafe (Common Ground, LUU, 5.30pm - 7.30pm)
Every Tuesday
Get Out, Get Active Lunchtime Run (Meet at Cromer Terrace Gym, 12.05pm – 12.40pm)
Every Wednesday
International Students' Club (Emmanuel Centre, 6pm – 8pm)
Every Thursday
Get Out, Get Active Lunchtime Run (Meet at Cromer Terrace Gym, 12.05pm – 12.40pm)
Every Friday
Get Out, Get Active Yoga (Cromer Terrace Gym, 1pm - 2pm)
The Language Centre run weekly events open to all from 7 July - 15 September, including conversation clubs, restaurant trips, book chats, presenting with confidence and Friday film nights. See the Language Centre facebook page or LUU events listings for more details. You can also sign up to receive their weekly Recommended Opportunities and Events Newsletter, to find out about exciting opportunities on campus and around the city over the summer.
The Edge gym on campus offer free fitness classes every weekday between 9 July - 14 September, including a mix of live and virtual classes. All classes take place in The Edge studios, virtual classes are screened and some are even delivered in Mandarin! Sign up here.
One-off Events:
Thursday 12 - Wednesday 18 July
Graduation Ceremonies (The Great Hall, various times)
Tuesday 17 July
Karaoke Social (The Terrace, LUU, 7.30pm – 10pm)
Tuesday 24 July
Research Nights (Pyramid, LUU, 6pm – 8pm)
Tuesdays 24, 31 July and 14 August
Mature Student Campus Catch-up (Lifelong Learning Centre, Marjorie and Arnold Ziff Building, 10am – 1pm)
Wednesdays 1 and 8 August
Feeling at Home in Leeds for International Postgrad Researchers (Marjorie and Arnold Ziff Building, 2pm – 5pm)
Thursday 6 - Saturday 15 September
Leeds International Piano Competition (Across campus)
There are also many cultural attractions on campus offering a variety of performances, exhibitions and events. You can discover art across campus by following the University's public art trail (PDF).
Events off campus
These off campus events are organised by the University and open to all students. Staff will be on hand to introduce you to one another, so don't be afraid to come alone to meet new people. Tickets for these events may sell out in advance, so please buy early to avoid disappointment.
Saturday 14 July
Trip to Haworth (Meet at Parkinson Steps, 9.45am – 5pm)
Sunday 15 July
Discover Leeds Tour (Meet at Parkinson Steps, 9.45am - 3pm)
Saturday 21 July
Trip to Whitby (9am - 7pm)
Sunday 22 July
Trip to Saltaire (11am - 5pm)
Sunday 29 July
Temple Newsam Picnic (12pm - 5pm)
Saturday 4 August
Trip to Grassington (10am – 4.30pm)
Sunday 5 August
National Coal Mining Museum Trip (1pm - 5pm)
Thursday 9 August
Cricket Trip: Yorkshire vs Lancashire (meet at LUU entrance, 5.45pm - 10pm)
Saturday 11 August
Meanwood Valley Park Picnic (10am - 3pm)
Sunday 12 August
Trip to Ilkley (meet at Parkinson Steps, 10am - 3pm)
Saturday 18 August
Trip to York (9am - 6pm)
Sunday 19 August
Trip to Chatsworth House (10am - 4pm)
Saturday 25 August
Trip to Scarborough (9am - 7pm)
Saturday 25 August
Trip to Harry Potter Studios (10am - midnight)
Saturday 1 September
Trip to Durham and Alnwick Castle (7am - 7pm)
Sunday 2 September
Trip to Yorkshire Sculpture Park and Hepworth Gallery (11am - 5pm)
Saturday 8 September
Trip to Malham (9.45am - 4.30pm)
If you're an international student interested in cultural exchange, find out more about how you can visit a British family for a day or a weekend with Host UK.
Volunteering opportunities
Would you like to gain some experience in volunteering? Whether you would like to support events taking place in the city, get practical in local green spaces or donate and sort unwanted items for a good cause, there are plenty of opportunities that will allow you give something back whilst having fun.
Taster sessions
These sessions give you an opportunity to try different volunteering opportunities in Leeds. Staff in purple t-shirts will act as a meeting point and be on hand throughout to answer any questions. Everyone is welcome. Places are limited to 10 people per session, so be sure to sign up early!
Saturday 28 July
Bedford Fields Volunteering Taster (Meet at LUU main entrance, 10.30am – 4pm)
Flexible volunteering
Here are a selection of one-off or flexible opportunities taking place in the summer months. We'd love to hear more about any volunteer experiences you take part in, email us on globalcommunity@leeds.ac.uk.
Conservation
LUU Rooted
Hyde Park Source
Bedford Fields Forest Garden
Towpath Taskforce
Sport
Leeds University Sport Volunteer Register
Bodington Junior Parkrun
World Triathlon Series
Motivation Squad Volunteer
Sustainability
Student Citizenship Volunteering
Leave Leeds Tidy
Real Junk Food Sharehouse Volunteer
Freedom 4 Girls
Event Support
Bradford Literature Festival
Leeds International Piano Competition
Leeds Museum and Galleries
Candlelighters Event Volunteer
Would you like to see more information about volunteering opportunities in Leeds? There are a wide range of opportunities on the University's Leeds for Life Opportunities website and Doing Good Leeds.
Events in the city
There are many more activities and events taking place across the city. Why not book tickets for a theatre production? The West Yorkshire Playhouse and Leeds Grand Theatre offer student discounts and Opera North have an 'Under 30s' scheme open to all 19 – 29 year olds or anyone in full time education.
Don't miss the chance to explore the many festivals taking place across the city, spanning music, arts, food and family fun. Sporting events such as the World Cup and Wimbledon will be screened in Millennium Square. You can also find more information on local food and craft markets in Leeds by visiting the Leeds City Council website.
For more information about events happening in Leeds, visit the following websites: Leeds List, the Leeds City Council website, Leeds Inspired and Visit Leeds.
Study support
Wednesday 18 and Tuesday 24 July
Shut up and write!' for Postgraduates and staff (Research Hub, Level 13, Edward Boyle Library, 1pm - 4pm)
Skills@Library offer one-to-one support to undergraduate and taught postgraduate students on a wide range of topics, as well as a summer workshop programme focusing on taught postgraduate research projects. Their Maths drop-in sessions also continue through the summer months – Wednesdays, 1pm - 4pm, in the Footsteps Room, on Level 1 of the Laidlaw Library.
Summer opening hours
Use the following webpages to find out more about opening hours during the summer months:
Great Food at Leeds Cafes on Campus
University Libraries
University Computer Clusters
University Sports Facilities
Leeds University Union
Term dates (including dates when the University will be closed)
Christmas 2017
Christmas in Leeds
Christmas in Leeds is a programme for all students staying in Leeds over the winter break, providing opportunities to meet others, experience Christmas traditions, and find out about help and support.
In December 2017, the programme included an expanded range of events during the University closed period, such as a trip to see a pantomime, a football match, and a meal on Christmas Day. Take a look at the Christmas in Leeds programme for 2017 (PDF) to see some of the events which ran throughout the break.
What students said about the programme:
"I got a lot of information, recommendations and suggestions regarding the Christmas activities. I did not feel lonely when some friends went back to their hometown."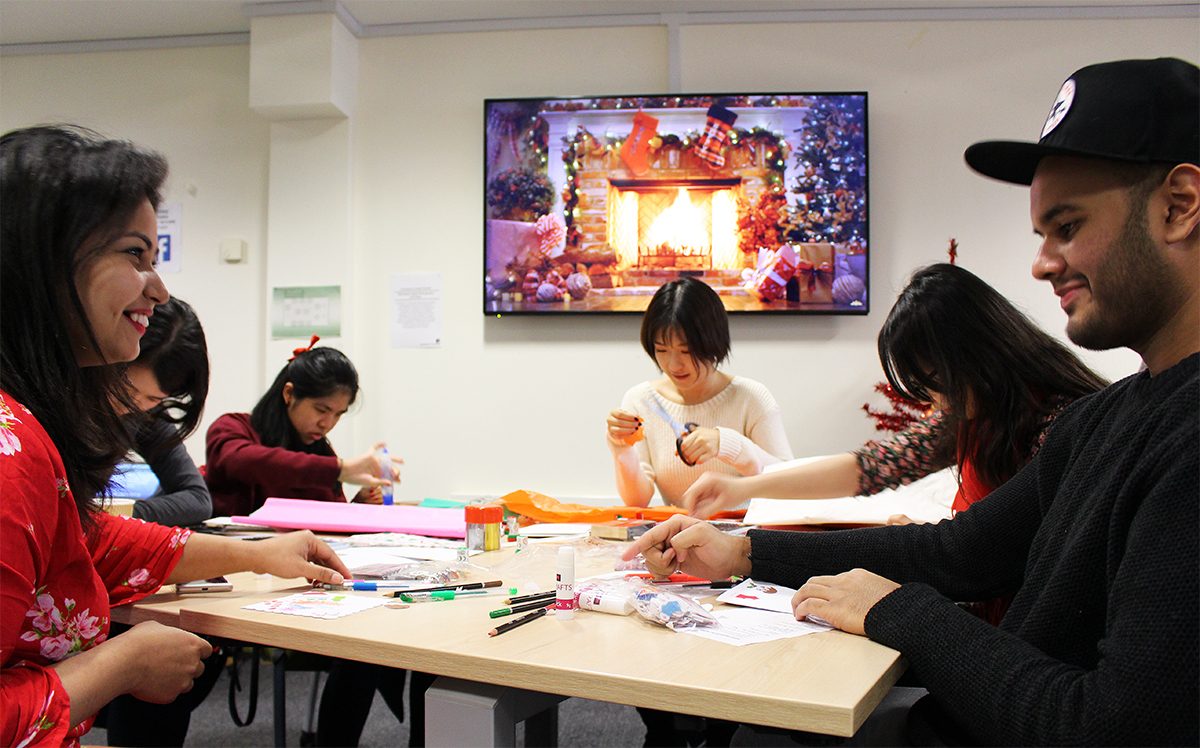 "I stayed in Leeds almost every day. Thanks to the information in the Christmas in Leeds programme, I could make my holiday enjoyable."
"Attending the Rainbow Junk-tion Christmas Lunch was a great way to spend Christmas day. All of the other volunteers were very supportive and I had some great chats to people."